Abiodun Onafuye/ Abeokuta
Governor Ibikunle Amosun of Ogun State today launched the pilot phase of the States Community Based Health Insurance Scheme (CBHIS) tagged 'ARAYA'.
The governor also launched the second phase of the Conditional Cash Transfer 'GBOMORO, expressing the belief that his government's affordable and sustainable health care delivery system will serve as a reference point for others across the country.
The programme will be rolled out in Ijebu Ode, Abeokuta North, Abeokuta South, Sagamu, Ado-Odo/Ota and Yewa South Local Government Areas before being extended to other parts of the State.
According to the governor, "The Community Based Health Insurance Scheme is designed to provide financial protection against all causes of illness and improving access to quality health services for those who are excluded from the formal insurance.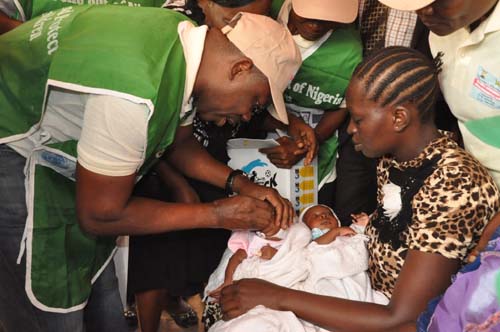 "The wide spread participation in CBHIS across Ogun State will provide free-healthcare for the vulnerable group- pregnant mothers, children under five years and the aged (70 years and above) while the cost of health care for the general populace will also be subsidised by government", Amosun said.
The governor further explained that the main objective of GBOMORO is to increase the access of low income pregnant women to basic health care, adding that, "under this GBOMORO Project, cash will be given to the vulnerable pregnant women to increase their access to maternal health services at selected health care centres", he explained.
Benefit derivable from the CBHIS, according to the governor, include improved access to healthcare delivery by setting high standard; reduction of poverty in the state by reducing out of pocket expenses for health care delivery; augmentation of government expenditure on health, which is quite low in Nigeria; increased efficiency in the
healthcare delivery system and provision of free health care for pregnant women and children under five years through Conditional Cash Transfer Scheme GBOMORO.
In his presentation, Commissioner for Health, Dr. Olaokun Soyinka said beneficiaries of the scheme are expected to pay N7000 as premium per year which will be subsidised by the State government in collaboration with the beneficial Local Government Councils with N3000, thereby enabling the enrollees to pay N4000 per annum while vulnerable group,
who are the pregnant women, under fives and over 70, would access it for free.
In his welcome address, the Special Adviser to the Governor on Health, Dr. Rotimi Ogungbe said that the implementation of the scheme will address poor utilisation of health system which might have been caused as a result of poor health outcome to achieve universal health insurance coverage for the residents of Ogun State by 2015.
Special Adviser to the Governor on Millennium Development Goals (MDG), Mrs Hafsat Abiola-Costello said though support from the MDG will end by 2015, the scheme would guarantee continuation of the support for qualitative healthcare.