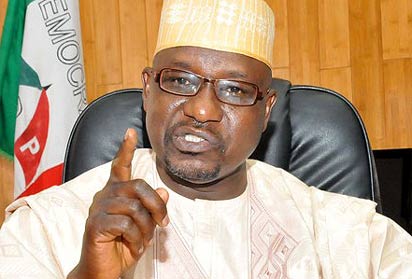 Nigeria's President Goodluck Ebele Jonathan has terminated the appointment of his Special Adviser (Political), Alhaji Ahmed Gulak with immediate effect.
No reason was given for the termination of the appointment in a statement announcing it signed by Reuben Abati, spokesperson to President Jonathan on Tuesday afternoon.
Abati added that a replacement for Alhaji Gulak will be announced in due course.
As Special Adviser to the President, Gulak was famous for his eagerness to take on anybody, especially when it comes to the question of the eligibility of President Jonathan to seek a second term.
Of late, he has been coordinating scores of groups who have emerged to campaign for the President's re-election.
This is in spite of the fact that the President himself has not confirmed whether he will seek re-election.
Reports indicated that he ran into trouble about two weeks ago when he went to inaugurate one of such groups in Akwa Ibom State.
The Akwa Ibom group was made up of those opposed to the State Governor, Godswill Akpabio who is also a close ally of President Jonathan.
Governor Akpabio, according to reports subsequently reported Gulak to the President.
It is not clear if Gulak's sack on Tuesday was linked to the indiscretion.
"President Jonathan thanks Alhaji Gulak for his services to the present Administration and wishes him success in his future endeavours," Abati added in the statement.
A replacement for Alhaji Gulak will be announced in due course, Abati added.
Gulak, former speaker of the Adamawa House of Assembly is a lawyer by profession. He was born in Gulak, Adamawa State.
As political adviser to President Jonathan, Gulak made more enemies for the president for his unguarded utterances.
In an article, published last year March, political commentator, Garba Shehu described Gulak as a dangerous man over his comments that President Jonathan had only used 40 per cent of his presidential powers.
"In a recently published interview he is yet to retract, he reminded Nigerians that our democracy is a hand-out by the kind grace of the President who he said we are lucky to have. This President, he thundered, "has the power of life and death" but that because he is a good man, he uses only 40 percent of those powers.
In effect, Gulak wants Nigerians to be thankful and loyal to the President for his kindness in not using his full powers (to crush all of us) otherwise, as he said, he would have deployed those enormous powers to do evil," Shehu wrote.
In a Facebook posting on him on April 17, Usman Jimeta said of him: Ahmed Gulak, was born and brought up in the abattoir in Gulak, Madagali LGA of Adamawa State. He is from a family of butchers that is why he is always besieged by inferiority complex and immoralities. Ahmed Gulak, sponsored the assassination of three successive District Heads of Gulak to pave way for his illiterate blood brother who is not a heir to the throne. The same Ahmed Gulak, sponsored the attack on the Residence of the Deputy Governor, ADAMAWA State, Mr James Bala Ngilari in order to bring about bloodshed in the State. May Allah (STW), destroy Ahmed Gulak the way Andrew Azazi was humbled to Hell."