The arraignment of Mohammed Abacha by the office of the Attorney-General of the Federation (AGF) was stalled again on Tuesday, due to the suspect's ill-health.
Mohammed was to be arraigned before Justice Mamman Kolo of an FCT High Court on charges of receiving stolen property worth N100.38 billion.
The property was said to be owned by his late father, Gen. Sani Abacha, which was later forfeited to the Federal Government.
The office of the AGF, on behalf of the Federal Government, filed a nine-count charge against Abacha, who is yet to appear in court to take his plea since the case was filed.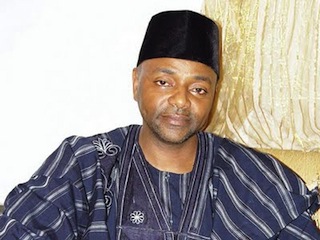 The AGF alleged that Mohammed had received property worth N100.38 billion between 1995 and 1998,which was acquired unlawfully by the father and later forfeited to the government
At the resumed hearing of the case, counsel to Abacha, Reuben Atabo, told the court that he had received hearing notice for arraignment of the suspect.
Atabo argued that the suspect was ready to clear his name from the allegations.
He, however, said that it was unfortunate that the suspect fall sick which resulted to his inability to appear in court.
"My lord, we wish to inform the court that about four days ago the suspect took ill and he was rushed to a hospital.
"My lord, my client's absence today is neither deliberate nor an attempt to run away from his trial.
"He was diagnosed to have high blood pressure and severe chest pain. Doctors prescribed some drugs for him and recommended two weeks bed rest," he said.
Atabo submitted a medical report in support of his oral application for adjournment.
He urged the court to fix a favourable date to enable his client recuperate and attend his trial.
However, counsel to the Federal Government Daniel Enwelum, said that, he would reluctantly concede to the oral application for adjournment since it was a medical issue.
The trial judge subsequently adjourned the case to June 18, for arraignment.
It would be recalled that at the last hearing of the case, Abacha's counsel, Abdullahi Haruna, had told the court that he got to know about the arraignment 'by accident'.
The judge, therefore adjourned the case to April 29 (today) for arraignment.
Load more