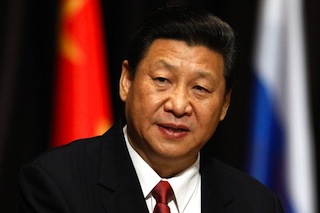 Chinese President Xi Jinping ordered a crackdown after a stabbing spree and explosion at a railway station in the restive Muslim-majority region of Xinjiang left three people dead and 79 wounded, state media said Thursday.
The violence came as Xi was wrapping up what state media characterised as an "inspection tour" of the volatile region in China's far west, during which he had called for a "strike-first" strategy to fight terrorism.
"The battle to combat violence and terrorism will not allow even a moment of slackness, and decisive actions must be taken to resolutely suppress the terrorists' rampant momentum," Xi said in comments published early Thursday by the official Xinhua news agency.
Xinhua earlier said attackers slashed people with knives and set off explosives at the southern railway station in Xinjiang's capital Urumqi on Wednesday evening.
The agency called it a "violent terrorist attack", though so far no particular group has been blamed. In the past, China has fingered what it calls religious extremists with support from outside groups, but is careful not to blame the region's ethnic Uighurs in general.
The mayhem came just two months after machete-wielding attackers rampaged through a railway station in the southern Chinese city of Kunming, killing 29 people and wounding 143 in what many in China dubbed the country's "9/11".
Dilxat Raxit, a spokesman for exile group the World Uyghur Congress, citing local sources, claimed more than 100 Uighurs were arrested in the aftermath of Wednesday's attack.
"Uighurs struggling between despair and survival expect Xi Jinping to come to East Turkestan to give constructive suggestions on improving the turbulent situation," he said in an e-mail, using the term for the region favoured by exile groups.
"However, the fact is Beijing continues encouraging armed suppression of Uighurs," he wrote.
He suggested the situation remained volatile, as "any Chinese provocation would directly incite further turbulence".
Xinjiang is a vast and nominally autonomous region where Uighurs are the largest ethnic group, though decades of migration to the area by China's dominant Han majority has fostered tensions.