Ayorinde Oluokun/Abuja
Another bomb explosion has rocked Nyanya, a suburb of Abuja, scene of the 14 April bombing that left about 75 people dead.
A thick smoke billowed out from the scene of the explosion, which was close to the Nyanya bus terminus where the earlier bombing took place.
Some residents said they heard a loud sound from an explosion which sent jitters into them as many scampered for safety.
Soldiers and other security officials have taken over the scene, less than 500 metres away from a check point set up by soldiers after the initial blast.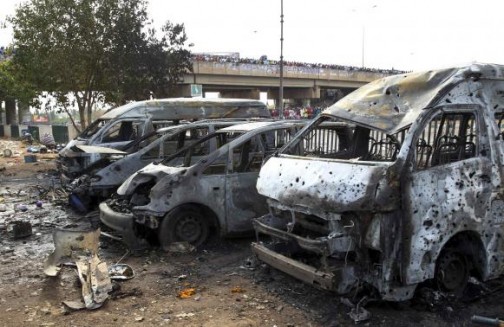 Officials have not confirmed the casualty figures, but witnesses reported nine people dead.
Some of the dead are said to be those driving past on the busy road as the blast went off.
Two cylinders believed to be rigged with bombs were detonated at the scene of the blast by bomb experts from the military.
Witnesses claimed the bomb went off in a white Golf car which was parked just a few metres away from the Bus station. Three men, eyewitnesses claimed ran out of the car before the blast went off.
The injured and the dead have been taken to the Asokoro General Hospital and National Hospital for treatment.
Security has been tightened around Abuja since 14 April. Boko Haram leader, Abubakar Shekau claimed responsibility for the bombing, saying that his men live in the city and they can't be found.

Load more