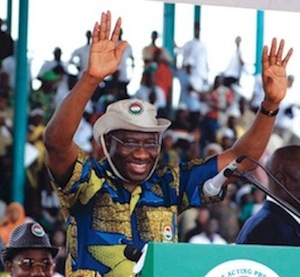 President Goodluck Jonathan has directed that three districts be allocated for housing schemes for workers in the Federal Capital Territory (FCT), the Minister, Alhaji Bala Mohammed, said.
Mohammed announced the decision at a May Day rally in Abuja on Thursday, adding that the president directed that the houses should be made affordable.
"Recently the President commissioned more workers' housing estates in the life of this nation; this can also be said in other sectors of the economy, such as health, education, among others ," he said.
The minister said the FCT Administration recently gave out 200 plots as Long Service Award to some of its employees who served meritoriously.
He noted that plans had been made to institutionalise the award.
However, he said that the FCT Administration had been working assiduously to boost workers' morale through various welfare programmes and incentives.
Mohammed explained that the present administration had adopted measures to check congestion at healthcare facilities in the territory arising from the influx of people.
"In the light of this, scores of specialised medical and para-medical personnel have been recruited for this purpose.
"As a worker-friendly administration, a Ministerial Committee on Hazard allowance has been constituted to address dangers being faced by some of our staff who perform duties that are considered hazardous," he said.
Mohammed pledged government's determination to continue to explore ways to create a favourable environment for workers to give their best in effort to build a just and equitable society.
He said the security challenges facing FCT residents would be addressed to ensure safety for law abiding citizens.