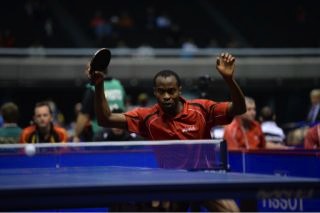 Team Nigeria showed their supremacy over Canada in the last group match of Group E at the ongoing World Team Table Tennis Championship in Tokyo, Japan.
Nigeria beat Canada 3-1 to finish second behind Czech Republic who topped the group by winning all their group matches. The Segun Toriola-led male team came from behind to beat the Canadians in breathtaking fashion; showing off some enviable skills, visions and technique.
Although favorite, Toriola lost 13-15, 8-11, 6-11, loss to Canada's Andre Ho in the first game, rave of the moment, Aruna Quadri put the match at par when he beat Theriault Pierre-Luc 7-11, 11-6, 11-6, 12-10.
Ojo Onaolapo then put Nigeria in the lead with a 9-11, 11-7, 11-6, 11-6 win over Vincent Rousseau-Emond. To complete the 3-1 victory over the
Canadians, Toriola was made to work hard. He beat Pierre-Luc
8-11, 11-13, 11-7, 11-6, 11-5.
Also on Thursday, Czech Republic maintained their 100 per cent record in the group with a 3-0 bashing of Bosnia-Herzegovina. The Czechs won all their five matches to top the group ahead of Nigeria who won four of their five matches.
Nigeria male team is still in the race for promotion, as the knockout
stage of Division Two begins on Friday.
Meanwhile, the female team will be fighting to remain in Division Two after losing their fourth game to Turkey on Thursday. The team captained by Funke Oshonaike will have to redouble their efforts in the classification matches that will decide who stays in the division.