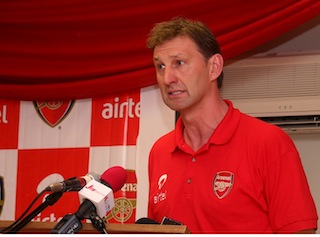 Nigeria's representatives at the ongoing Airtel/Arsenal International Soccer Clinic in Kigali, Rwanda, have revealed their ambition to play and win major trophies for the country.
The players who spoke of their ambition at the soccer clinic, said their dream is to win the various FIFA age-grade competitions, the African Cup of Nations and the senior World Cup in Nigeria's green and white national colors.
Olu Gabriel, a striker said: "Although I will love to play for Arsenal Football Club, one of my dreams is to fight for a place in my National Team and win major trophies at all competitive levels," he said.
Like Gabriel, Joy Falegan has her eyes on playing for the Falconets. She knows it will require hard work and commitment on her part and she is ready to give it her all.
"I am determined to keep working hard and to make my country proud. I thank Airtel for this fantastic opportunity as it has provided me with requisite knowledge and the right exposure to realise my dreams. I will continue to give my very best and one day, I shall be wearing our National Colours for the Falconets to win big things with my country."
On his part, Wisdom Uforo, Most Valuable Player at the 2013 edition of ARS, expressed similar sentiments, saying he will love to win the World Youth Championship with Nigeria.
"The World Youth Championship has always excited me. I pray that I'll be part of the team that will win the U 17 World Cup for our country," the attacking midfielder said.
The six youngsters representing Nigeria at the soccer clinic were selected by officials of Youth Sports Federation of Nigeria (YSFON) at the National Finals of the 2013 edition of the Airtel Rising Stars (ARS) U17 Tournament held at the Agege Township Stadium in Lagos.
The players are Rilwan Adeleke (Best Goal Keeper, Male), Olu Gabriel (Highest Goal Scorer, Male) and Wisdom Uforo (Most Valuable Player, Male). Others are Augustina Boniface (Best Goal Keeper, Female), Falegon Joy (Highest Goal Scorer, Female) and Kafayat Shittu (MVP, Female).
The players have been benefiting from intensive training sessions organised by UEFA-Certified Arsenal Coaches; Nathan Asare and Rupen Shah.
Arsenal Legend, Tony Adams, will be with the Team on Friday 2 May to share his playing experiences with the youngsters.
The football clinic offers selected youngsters from Nigeria, Ghana, Uganda, Zambia and Rwanda, a once in a lifetime opportunity to experience the 'Arsenal Way of playing'.
The courses are based on the same principles used at the club's training ground, developing young player technical skills and passion for the game to ensure the players' full potentials are realized.
Airtel's partnership with Arsenal is part of a three year sponsorship and mobile content agreement deal that allows select Airtel operations to tap into the football club's deep reservoir of technical resources and youth development expertise.
The Airtel Rising Stars pan Africa football programme attracted over 18,000 youth teams and 324,000 youth players across 16 countries in 2013.