Ayorinde Oluokun/Abuja
The World Economic Forum scheduled to begin in Abuja, Nigeria's federal capital next Wednesday will go on in spite of recent bombing incidents in the country.
There has been anxiety over the Forum billed to be attended by heads of governments and business leaders as a result of two bombing incidents which have claimed close to 100 lives within 17 days in Nyanya, a suburb of Nigeria capital city.
Death toll from the latest blast on Thursday night, according to the Police stands at 19 while 60 others are injured. An earlier blast 17 days before claimed 76 lives.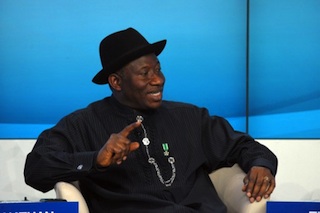 Boko Haram insurgent group claimed responsibility for the earlier blast in a video message in which it also indicated that its operatives are now in Abuja. But in a press release on Friday,World Economic Forum said it has received assurances from President Goodluck Jonathan that security arrangements in Abuja will ensure a smooth and successful meeting.
In the press statement signed by Oliver Cann, its Associate Director, Media, World Economic Forum said it has received assurances from President Jonathan and his government that robust security arrangements are being put in place for the meeting.
The 24th World Economic Forum on Africa with the theme, 'Forging Inclusive Growth, Creating Jobs', it will bring together over 1,000 leaders from across politics, business and civil society including Premier Li Keqiang of China and eleven African heads of state and government.
President Goodluck Jonathan and senior members of the Nigerian government will also attend the meeting.