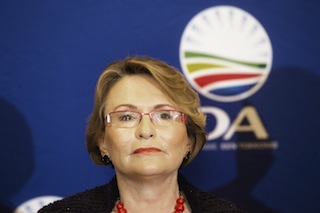 South Africa's leading opposition party, Democratic Alliance has said the ruling party African National Congress, (ANC) is in for a shock in the upcoming polls.
The opposition party made a final push for votes Saturday ahead of next week's hotly fought election, warning the ruling ANC is in for a rude shock.
The Democratic Alliance held its final campaign rally at a vast events centre in Johannesburg's upmarket suburb of Northriding.
"The ANC has become arrogant because they believe that the voters will carry on voting for them, whatever they do," said leader Helen Zille.
"Well, they are in for a big shock on Wednesday."
South Africans go to the polls on May 7 to elect provincial leaders and legislators. The lawmakers will then elect a president from the party which garners the most number of votes.
A slowing economy, high unemployment and rampant government corruption have been the DA's trump cards in this year's election.
Switching between English, Xhosa, Afrikaans and at times throwing in slogans in Sotho, Zille said her party was the "only hope for positive change" in South Africa.
She hit out at President Jacob Zuma, contrasting his leadership with that of fellow ANC leaders Nelson Mandela and Thabo Mbeki, who she said stewarded the country toward economic growth and development.
Zille claimed that during the last five years under Zuma, unemployment has climbed and conditions had deteriorated for the country's poor majority because the ANC's current crop of leaders "believe they will rule forever."
"They have forgotten about the voters who put them in power."
"It is not the organisation it once was."
"When a government becomes corrupt, when it does not do its job properly, the economy declines, unemployment grows, poverty deepens and the powerful few get richer and richer."
"That is the sad story of our own country over the last five years," she said.
"We demand change, less corruption, better services and more jobs," she said to wild applause from a sea of supporters in blue at the 18,000-seater Coca Cola Dome.
Despite growing disillusionment with the ANC, an Ipsos poll on Friday showed the party that has been in power since the end of apartheid in 1994 was heading to a fresh landslide victory.
The survey predicted the ANC would win with 63 per cent, a slight drop from the 65.9 per cent it got in the last vote in 2009.
Ipsos forecasts the DA would get 22 per cent of the vote, up nearly six percent points from the last election and would retain control of the Western Cape province.
Zille touted her party's triumphs in the Western Cape Province — the only one of South Africa's nine provinces not run by the ANC — saying that was the region with the lowest unemployment rate in the country.
If elected, her party promises to grow the economy which is struggling at under three percent, and to create six million jobs.