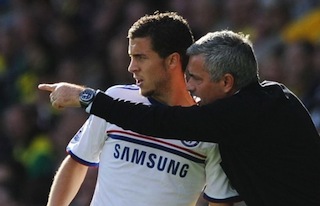 Chelsea manager, Jose Mourinho, has raised questions about Eden Hazard's commitment to the team following their ouster in the semi-final of the Champions League against Atletico Madrid at home.
Hazard criticised Mourinho's counter-attacking style of play after the loss. He said: "Chelsea aren't set up to play football. Chelsea are set up to counter-attack."
Hazard's statement, however, angered Mourinho who hit back at a press conference on Friday: "You get this kind of comment from players like him: from players who can't resolve a problem like we had with the first (Atletico) goal."
Mourinho also insinuated that Hazard's lack of commitment was responsible for one of the goals they conceded. "You understand where the mistake was and why we conceded that goal.
"Do I want him to change? No, I just say the perfect team at the top level cannot make this kind of mistake.
"When the comments come from a player like Eden, it's normal. He's not the kind of player ready to sacrifice himself 100 per cent for the team and his mates. I'm not happy."
Mourinho has shown that he is not a manager to be crossed. Earlier this season he loaned Romelu Lukaku to Everton because the Belgian refused to accept his role as the third-choice striker. His counterpart, Kevin De Bruyne was also sold to Wolfsburg in January when he fell out with Mourinho.
Likewise, Juan Mata was shipped to Manchester United in January shortly after the Spaniard had reacted angrily to being substituted against Southampton.
Other recipient of Mourinho's high-handedness are Ashley Cole and Andre Schurrle who were marginalised — and Ryan Bertrand loaned to Aston Villa — after the trio attended Arsenal's Christmas event on the same night Mourinho decided to postpone Chelsea's party.
Meanwhile, Mourinho insisted that Chelsea cannot win the Premier League this season. Beating Norwich City on Sunday would leave them top of the table with a week remaining.
Title rivals Manchester City and Liverpool will each have a game in hand by then, although Chelsea need both teams to slip up if they are to finish above them, Mourinho's men remain in contention.