Troops deployed Saturday to Nigeria's main airports in a security clampdown ahead of a major international economic conference next week in Abuja after two bomb blasts left scores dead in the capital.
Armed troops have been deployed to the departure and arrival gates of both Abuja's international airport and that of the economic capital Lagos, sources told AFP.
In Lagos, cars may no longer drop passengers off outside the airport terminal but in front of a church some 200 metres (yards) where they must take a shuttle.
The measures are in addition to precautions announced earlier ahead of the three-day World Economic Forum on Africa, dubbed the "African Davos", beginning Wednesday, which Chinese Premier Li Keqiang is due to attend.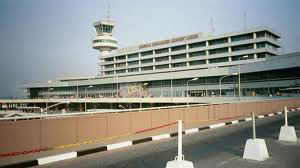 Two deadly car bomb attacks some two and a half weeks apart in an Abuja suburb blamed on the Islamist sect Boko Haram sparked the security concerns over the WEF, described as the most prestigious international event to come to Abuja.
April 14 in Abuja's Nyanya suburb saw the capital's deadliest attack ever, when 75 people were killed, and the second was a stone's throw away, considered a "copy-cat" attack and claiming 19 lives on Thursday.
Also on April 14, suspected Boko Haram gunmen kidnapped scores of schoolgirls in northeastern Nigeria, the main theatre of their insurgency that has killed thousands since 2009.
The US consulate in Lagos warned in an advisory on Friday that "groups associated with terrorism" could be planning to attack a luxury hotel in Lagos.
The WEF said in a statement that its security arrangements for the conference, to be held at a top Abuja hotel, were "robust".
"There are no plans to make any changes to the programme or content of the meeting," it said, offering sympathy for the victims of the attacks.
Nigeria, however, announced that all government offices and schools would be shut during the conference, while local organisers have said more than 6,000 police and soldiers would be deployed to ensure delegates' safety.
"Our security planning for the World Economic Forum on Africa is already well under way and will be the largest security operation ever mounted in this country for an international summit," they said.
'Unconscionable crime'
US Secretary of State John Kerry on Saturday vowed that Washington would do "everything possible" to help Nigeria deal with the abduction of the schoolgirls, who number 223, according to the latest police figure.
"Let me be clear. The kidnapping of hundreds of children by Boko Haram is an unconscionable crime," Kerry said in a policy speech in the Ethiopian capital Addis Ababa.
"We will do everything possible to support the Nigerian government to return these young women to their homes and hold the perpetrators to justice. That is our responsibility and the world's responsibility," he said.
The United States, he added, is "working to strengthen Nigeria's institutions and its military to combat Boko Haram's campaign of terror and violence".
The mass kidnapping is one of the most shocking attacks in Boko Haram's five-year extremist uprising, which has killed thousands across the north and centre of the country, including 1,500 people this year alone.
The twin car bombings in Abuja have fuelled fears that the Islamist group may be shifting its focus outside of its historic base in Nigeria's remote northeast.