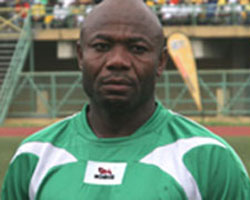 Golden Eaglets coach Emmanuel Amuneke has warned players not pulling their weight in the camp of the national Under-17 team, 'to shape up or shipped out'.
Speaking to the lads who won bronze medals at the recently concluded WAFU B Tournament in Togo along with other prospective players, Amuneke said the separating of the wheat from the chaff is an ongoing process until a final list is compiled.
The second phase of the screening which began on 1 May has thrown up some new prospects and the fight to be part of the team continues with much intensity even as Amuneke warned for the umpteenth time that nobody is guaranteed a shirt yet.
"I have to be frank with you and the truth is that I'm not happy with some of you because you have forgotten so soon all what we learned in Togo," he fumed.
"But one thing is clear, those of you who are not ready to play for the team would soon go home."
Meanwhile, the second-phase of screening is gathering momentum with hundreds of players trooping to the NFF/FIFA Goal Project Pitch in Abuja since the exercise began on Thursday.
Fitness, light training and drilling would continue throughout this week.
Amuneke said there is a level playing field for all-comers, adding that the number one consideration for selection is nothing other than merit.
"What we are doing here is very practical and if a player cannot show what he can do in 25 minutes, I don't think he would give anything in 90 minutes," he explained.
"But I'm very hopeful we would certainly get a group of players that would give us the desired results."
Officials disclosed that players coming for the open screening should be ready to cater for their up keep during their stay
in Abuja.