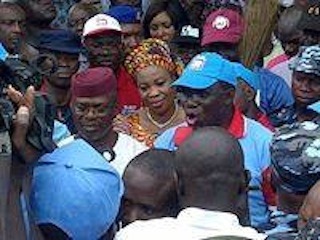 Former Ekiti State Governor, Chief Segun Oni has defected to the All Progressives Congress (APC).
Oni dumped the Peoples Democratic Party (PDP) for APC today at Ifaki-Ekiti. He was removed as governor of Ekiti state by the Court of Appeal in 2011.
Oni later became the PDP Deputy National Chairman, South West, before joining Abubakar Baraje faction of the party.
Oni, who announced the defection on Monday at Ifaki-Ekiti, said he dumped the PDP to help current the Governor, Kayode Fayemi to win a second term.
According to him, Fayemi is the best option for the state in the June 21 governorship election.
"Today, we are erecting a new platform to build the future of Ekiti, the future is paramount in our hearts and what our children will say about us.
"Though, we might have had a past that was rough together, we must think of who can take the right decisions for us to build a prosperous future for Ekiti.
"I am not talking of perfection here but something that is better, something that can give us a better tomorrow."
According to NAN, Ekiti governor, Fayemi who was present at the occasion, described Oni's defection as " a home coming".
He assured the former governor that he would be accorded all the rights and privileges in his new party.