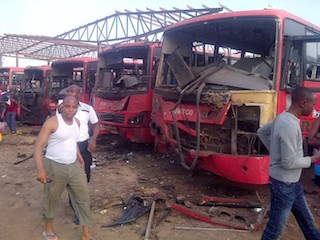 Some victims of the Nyanya bomb blast receiving treatment at the University of Abuja Teaching Hospital (UATH) on Monday called for Federal Government's assistance.
Eyinaye Gabriel, a victim of the 14 April bomb blast, told NAN that no government official had visited them since they were brought to UATH in Gwagwalada.
Gabriel said that they had also not received any money or materials from anybody.
"We heard that some government officials have been visiting victims in various hospitals, but we are yet to see them.
"We have also heard that money and other materials were being given to bomb blast victims, we have not seen any," he said.
However, he commended the effort of the hospital management for taking care of them and called on the Federal Government to do more in terms of security in the country.
"If not for the hospital that is taking care of us and giving us the attention that we deserve, we would have been dead by now. I really appreciate their efforts.
Eduku Eze, another victim said that the only group of people that visited them were from a church.
He said the hospital management had been responsible for their treatment while their relations took care of feeding.
Chief Medical Director of the hospital, Dr Peter Alabi, said the hospital had estimated the medical bills of the victims and had sent same to the National Emergency Management Agency (NEMA), but were yet to receive any response.
Alabi, who explained that the hospital received three causalities from the Maitama General Hospital in Abuja, said one them died in two days after arrival.
"The victims referred to this hospital sustained several injuries with burns.
"They were three; we lost one within the first two days. The remaining two, who sustained injuries and burns of about 35 to 45 degrees are receiving treatment, and their conditions are improving.
"They will spend two to three months in the hospital to get better,'' he said.