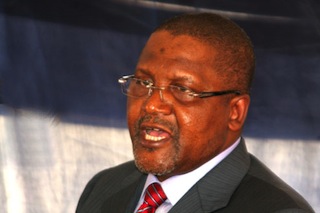 Nigerian businessmen have been awarded seven oil blocs for exploration from the 46 newly discovered oil blocs in Kenya, Dr Kiprono Kittony, the Chairman of the Nigeria-Kenya Chamber of Commerce said.
The chairman made the disclosure in Abuja on Monday at a meeting with prominent business men from both countries.
The meeting was part of activities lined up for the state visit of President Uhuru Kenyatta of Kenya to Nigeria.
NAN reports that the closing session of the business meeting was presided over by Presidents Goodluck Jonathan and Kenyatta.
Kittony said the Joint Nigeria-Kenya Chamber of Commerce, inaugurated during a state visit of President Jonathan to Kenya in September last year, had yielded fruits.
It would be recalled that during the President's visit to Nairobi, Kenyan authorities had offered the 46 newly discovered oil blocs to interested Nigerian investors in the oil and gas industry to develop.
The chamber chairman added that it was exciting to see Nigerian investors coming to Kenya after the Jonathan visit, stressing that Kenyan Airways had increased the number of flights to Lagos to 10 in a week and promised to enhance the capacity of flights.
He noted that Kenyan Airways would from 6 June, start direct flight to Abuja.
Kittony stated that there had been investments in the financial sector with three Nigerian banks now operating in Kenya, noting that: "in the next four years, we will see increased business cooperation and flow of trade.
"We appreciate the support we got from government of both countries."
Kittony added that about 41 top business men from eight sectors accompanied President Kenyatta on the state visit, saying "we have representation from the manufacturing, hospitality, healthcare and financial services,
"We also have representations from information and communication technology, agriculture, cotton, textile and the real estate.''
Alhaji Aliko Dangote, the Co-Chairman of the Joint Chamber of Commerce and Nigeria's business mogul, said eight companies from Kenya had established offices in Nigeria.
Dangote, who was represented by his brother, Sanni Dangote, said that in the area of food and beverages, Kenyan tea was now very popular in Nigerian markets.
He disclosed that there was a proposed establishment of hospitality training institute in Nigeria with technical support from Kenya.
Dangote added that given the immense popularity of the Nigerian movie industry in Africa, Nollywood's proposed movie institute to be established in Nigeria would assist in the training of Kenyan actors.