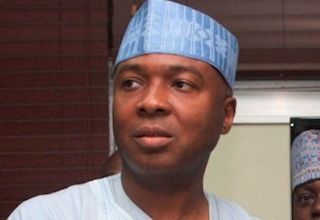 The absence of the police in an Abuja Federal High Court on Monday stalled hearing in a suit instituted by former Kwara Governor, Senator Bukola Saraki, against the Inspector-General of Police.
Saraki had, in the suit filed by his Counsel, Mahmoud Magaji (SAN), complained of undue police harassment and intimidation, and sought for enforcement and protection of his fundamental human rights.
Saraki said the police had been intimidating him over an invitation to appear before the Force Special Fraud Unit over a N4 billion loan suit which he won two years ago.
At the hearing of the suit, Magaji announced appearance for Saraki but the police were absent in court and neither were they represented nor offered any explanation for the development.
Magaji, therefore, asked for an adjournment in order to give the defendants fair-hearing and to enable them to appear in court to defend the suit against them.
The former governor sought for court order to quash the invitation on the ground that he had two years ago appeared before the same unit and was cleared of any wrong doing in the matter.
The police had, in a letter dated February 19, 2014, with reference no: CR.3000/X/SFU/ADM/BFC/Vol.17/2014, invited Saraki to the Abuja Special Fraud Unit.
Saraki had in response, instituted the suit seeking an order of perpetual injunction restraining the respondents or their agents from harassing him, his family members and business associates.
However, in a counter affidavit deposed to by Jonah Wutu, a police officer attached to the Legal/Prosecution Section of the Force CID in Abuja, challenged the competence of Saraki's case.
Wutu submitted that the police, under the law, had powers to make any arrest on suspicion.
In his ruling, Justice Ahmed Mohammed, ordered that a fresh hearing notice be issued and served on the police to appear in court, and adjourned the case until May 26 for hearing.