The United States offered Tuesday to send a team of experts to Nigeria to help find 200 kidnapped schoolgirls amid a wave of outrage over their abduction.
US Secretary of State John Kerry made the offer in a phone call to Nigeria's President Goodluck Jonathan, who welcomed it, State Department spokeswoman Jen Psaki said.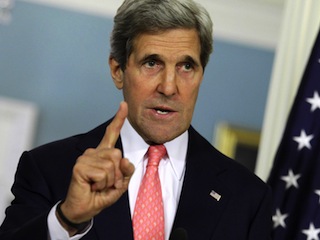 Kerry, who was to meet with President Barack Obama later in the day, said the United States "is ready to send a team to Nigeria to discuss how the United States can best support" efforts to find the girls, Psaki said, adding that details have to be worked out.
She said Washington had also offered to set up a coordination cell at their embassy in Abuja with US military personnel, law enforcement officials as well as experts in hostage situations.
Obama "has asked us and the secretary to do everything we can to help the Nigerian government find and free all these" girls, the spokeswoman said.
The leader of the Islamist militant group Boko Haram claimed responsibility for the abductions in a video obtained by AFP Monday.
Abubakar Shekau, the Boko Haram leader, said the extremist group was holding the schoolgirls abducted from Chibok on April 14 as "slaves" and threatened to "sell them in the market."
Eight more schoolgirls were kidnapped by gunmen from the village of Warabe in Nigeria's embattled northeast, near Chibok, residents said Tuesday.