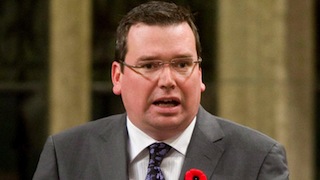 Christian Paradis, Canadian Minister of International Development and La Francophonie, has expressed the readiness of Canada to assist Nigeria in the fight against terrorism.
According to a statement issued by Vice-President Namadi Sambo's Senior Special Assistant on Media and Publicity, Malam Umar Sani, on Wednesday in Abuja, Paradis said this during a courtesy visit to Sambo at the Presidential Villa in Abuja on Tuesday.
"The Minister remarked on the collaboration between Nigeria and Canada in strengthening bilateral relations on major issues, foreign investment agreement and on the long-standing partnership on the maternal and child welfare to ensure that the most vulnerable people were reached.
"He also remarked on the preparation for the February 2015 elections and the need to collaborate to ensure the success of its conduct.
Paradis further noted that the Same-Sex Law should not be used to affect people's fundamental human rights.
It said further that the Minister stressed the need to ensure that Nigeria's mining sector was a blessing to the people.
Sambo, expressed the government's deep concern over the Boko Haram insurgency, reassured that security agencies had embarked on co-ordinated efforts to end the menace.
"Government is doing everything possible to ensure the safe release of the kidnapped schoolgirls in Chibok,'' Sambo was quoted as saying.
Sambo expressed delight over the excellent relationship between Nigeria and Canada.
"The issue of security, maternal and child welfare, power and solid minerals development, and the conduct of free, fair and transparent elections in 2015 were top on the priority list in the administration's Transformation Agenda.
The Vice-President admonished Nigerians not to mix politics with serious matters of state such as security as the elections approach.
"Like the 2011 elections, the 2015 elections would be free, fair and transparent as INEC was working round the clock to ensure the success of the exercise," the statement read.
Sambo called for support and assistance from Canada in areas of surveillance equipment and other vital security hardware which would enhance Nigeria's capacity in addressing insurgency.
He also assured the Canadian envoy that the Anti-Gay Rights Act was not enacted to violate the rights of any Nigerian.
Sambo explained that Nigerians seeking asylum in Canada with claims of violation of their fundamental human rights were doing so on false claims.
"The religious nature of the Nigerian society was responsible for the enactment of such a law," he said.