Eromosele Ebhomele
Bloggers and other social media activists have designed viral images including T-shirts and caricature of wife of the Nigerian President, Mrs. Patience Jonathan, to mock her for speaking pidgin English while addressing Mrs Asabe Aliyu Kwarmbula, the Principal of Government Girls Secondary School, Chibok, Borno State over the abducted 234 students of the school at a press briefing.
The two minutes, 38 seconds long video has generated a lot of reactions on social media with many Nigerians sharing links through which it could be downloaded. And many social media users have had a bit of fun with it, with Patience being at the receiving end of the ascerbic attack.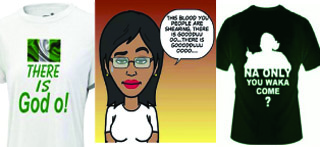 After the video went viral on the internet Tuesday, the viral images swept the internet with inscriptions on T-shirts mocking Patience over the way she reacted to the issue.
Some of the T-shirts had inscriptions like: Na Only You Waka Come?; There is God O! Chai Diaris God O! among others.
There was also a caricature of Patience saying, "This Blood You People Are Shearing. There is Goodduu ooo…There is Goooodduuu oooo…"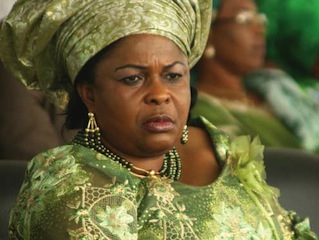 Mrs. Jonathan had summoned the school's principal, Mrs. Kwarmbula and an unnamed staff of the West African Examination Council, WAEC, over the abduction of 234 schoolgirls by the Boko Haram insurgents on 14 April.
While interrogating the principal, the video showed Patience asking the school principal if she came with two teachers, who could probably testify to the issue.
Mrs. Jonathan asked: "What of two teachers that can tell us that they conducted that exam? Do you come with any…na only you waka come? Okay!"
She then went on endlessly exclaiming, "There is God oh" and then broke down in tears.
Reacting, a twitter handle with the identity @its_donjay, said last night: "My goodness. BBC just showed Patience Jonathan's 'There is God' clip. And they actually displayed translations. Take away my citizenship now."