Nigerian President Goodluck Jonathan said on Friday he believed 200 schoolgirls abducted by Islamist militants last month in an attack that has stirred global outrage are still in his country and have not been moved to neighboring Cameroon.
As condemnation of the abductions spread, Saudi Arabia's grand mufti, the top religious authority in the birthplace of Islam, said Boko Haram rebels who conducted the abductions had "set up to smear the image of Islam".
Jonathan's government has been criticized for its slow response to the hostage crisis, and Friday is the first time he has said where he thinks the girls are being held.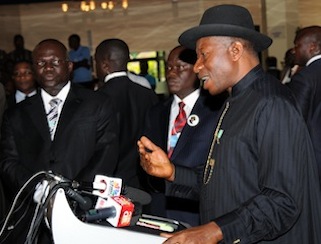 "There are stories that they have moved them outside of the country. But if they move that number of girls to Cameroon, people will see, so I believe they are still in Nigeria," Jonathan told journalists.
"We are also working with the experts that will use remote sensors to see them (insurgents) wherever they are. So that basically says they are within the Sambisa area," Jonathan said, referring to a forest that is a known Boko Haram hideout near the school from where the girls were abducted.
He was speaking on the sidelines of the World Economic Forum in the Nigerian capital. The event showcased investment opportunities in Africa's biggest economy, but was partially overshadowed by the kidnapping and a broader militant threat.
.Reuters