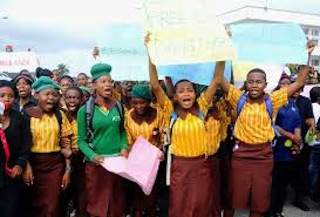 Governor Rauf Aregbesola of Osun state, his wife, Serifat, and other members of his cabinet on Thursday 8 May in Osogbo defiled rain to protest the abduction of school girls in Borno.
Addressing women at the government secretariat in Abere area of Osogbo, the governor described the abduction as a "barbaric act".
He advised women, irrespective of their religion to cry to God for divine intervention and mercy for the release of the girls.
The governor urged the African Union to get the three countries sharing boundary with Borno – Cameroon, Chad and Niger – to be involved in the search for the children.
Aregbesola recommended a three-day prayer to God for the release of the missing girls.
He also called on Muslims and Christians to in the state and across the country to pray on Friday and Sunday respectively for the release of the girls.
He urged the Federal Government to use science and technology in tracking and monitoring of people and events.
The governor's wife lamented the ordeal the abducted girls must have been going through.
She prayed for divine intervention, and urged women across the country to continue in their prayer for God's mercy upon the girls so that they could be found alive.
Grace Titi Laoye-Tomori, deputy governor Osun state, also participated in the peaceful protest.
Blessing Akanfe, a secondary school girl, who also participated in the protest said: "It is sad that a girl like me will be taken by strangers to an unknown location.
"While we pray to God for their release, I want to plead with our president to help bring our friends back and we want them alive.
"We are tired of seeing our mothers crying, help us restore peace to our society.''
Mrs Aduke Adeoye, a civil servant, said: "I can imagine the kind of pain and agony the parents of these girls are going through in a situation like this.
"I am a mother too; I know what it means to nurse children, losing them is not good.
"These girls are not just girls, they are teenagers, I wonder what they are going through in the hands of those wicked men. I know God will answer us and bring them back to us in peace."
The protest, organised by the Ministry of Women and Children Affairs, started at the entrance of the State House of Assembly and ended at the government secretariat in Abere.