Jethro Ibileke/Benin
The Director of Biafra Radio, Nnamdi Kanu, has warned that the government of Nigeria will have to contend with forces who are going to destroy the country unless Indigenous People of Biafra are allowed to become a sovereign nation on or before 31 December, 2015.
Kanu who spoke to journalists on phone on plans by Igbos all over the world to mourn the 3.6 million Biafrans who were killed during the civil war between 1967 and 1970, lamented that his people have been denied freedom.
While unfolding plans for the memorial, Kanu stated: "For the very first time, in over 42 years, we are going to remember the over 3.6 million people that Nigeria killed with the help of the British. We are the only people that failed to remember those that died, until our dear brother, Godswill Akpabio did something about it, and we commend him.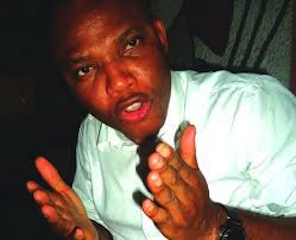 "The reason why he did it is because he listens to Radio Biafra. Every sensible person listens to Radio Biafra. In fact, most people get what is happening all over the world from Radio Biafra, not from any other source. So, on the 30th of May, 2014, everywhere in the world, starting from Japan in the East 12 noon, as soon as the sun is directly overhead, we shall hold a two minutes silence for our fallen people. As the sun is hitting midday on every time zone across the length and breath of this earth, we shall remember them. We want to tell the world that we have presence on every time zone in the world," Kanu stated.
While describing Radio Biafra as the voice of the people of Biafra, Kanu said: "Radio Biafra is the mouthpiece of the Indigenous People of Biafra. We are in over 88 countries around the world, and that is where we derive our strength and formidability from. It's the mouthpiece for every Biafran in the world. If you are a Biafran, Radio Biara is your radio.
"The Indigenous People of Biafra is not a movement, we are a country. We are called the IPOB, we are not a group. We are the citizens of Biafra. Where we differ from those who are running around is this, we don't lie, we don't cheat, we don't kidnap people, we don't appoprate lands that don't belong to us, we don't engage Nigerian politicians, we don't travel to Abuja, we don't negotiate, we don't retreat, and we don't surrender. Biafra or death. Uwazurike cannot say this to you, nobody else can, apart from the editorial board of Radio Biafra piloting the affairs of Radio Biafra through an executive council. We are different, we are the most transparent, most accountable collection of people who you can find across the world."
Kanu also berated Chief Ralph Uwazurike, MASSOB leader, whom he described as a traitor used by enemies of Biafrans to ensure that the struggle is frustrated, adding that the man has betrayed those who believed in him and goes about collecting handouts from politicians and campaigning for them through cheap popularity.
"I hate liars and cheats. He compromised the struggle. Isn't it very funny that Asari Dokubo is coming openly to say that he will give Shekau a battle? Why is it that Uwazurike has not spoken? What is a freedom fighter doing with hotels and mansions? Why did he campaign for Ohakim? I have the video to show it, and very soon I will show the video. Why did he allow Al-Mustapha to come to Freedom House?
"Why did he allow the same people that shot and killed MASSOB members to be walking about Freedom House in Okwe, their guns pointing at our people? Because he is the one now dining and eating with politicians. Why did he invite the son of Abacha, Mohammed to Okwe, with a 21 gun salute, 21 gun salute for Al Mustapha, the same people that participated in the genocide of 3.6 million of our people that you cannot mourn. If he was a serious freedom fighter, why couldn't he do what we are doing today? We are the only ones with the voice of our people. We are the only ones remembering our dead.
"He wanted to have a party to honour Peter Obi, that killed MASSOB members, on the same 30th May, to give awards to Ken Saro-Wiwa, the arch-abandoned property expert, that took the property of Igbo people in Port Harcourt. Is that the hallmark of a freedom figher? They have been killing our people, killing your members in Izu river, according to sworn testimony. Why has he not spoken up about those killings?" he queried.