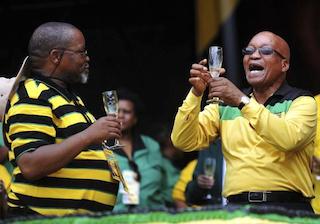 The United Nations on Friday congratulated the people and government of South Africa on the peaceful conduct of parliamentary and provincial elections, amid reports of high voter turnout.
A statement issued by the UN Information Centre in Pretoria said; "The UN Secretary-General applauds the determination of South Africans to participate meaningfully in the democratic system the country has fought so hard to establish.
"The UN is committed to continue supporting South Africa in its efforts to advance justice and development for the benefit of all segments of the society."
South Africans voted on Wednesday to elect the new National Assembly and provincial legislatures.
It was the country's fifth all-race election since the end of apartheid in 1994.
The South African Independent Electoral Commission (IEC) said the election recorded the highest number of votes cast in the country's democratic history.
The IEC Chief Electoral Officer, Mosotho Moepya, said "over 18 million votes were expected to have been cast in this national election.
"This will exceed the 17.9 million votes cast in 2009 and the 15.5 million in 2004."
He said 12.62 million votes had been captured on the result system by Thursday night.
"We remain on track to complete the count, capture and audit results for these elections in good time," Moepya told reporters at the IEC results centre in Pretoria.