Waka musician, Amudalat Aweni Sikiru Bello spent 16 years with Queen Salawa Abeni as her lead back-up vocalist. During her stay with the Waka Queen, she recorded five albums with the band. In this interview with KAYODE APONMADE, Amudalat speaks on her experience with Salawa Abeni and her plight as a band leader with a label owner
How and when did you begin a career in music?
I like singing while washing clothes. One of our neighbors called Toyin noticed the potentials in me and introduced me to Queen Salawa Abeni. When I got there, we met her husband, Alhaji Kollington Ayinla. After our discussion, both of them visited my parents the following day to seek their permission and blessings for my release. I was like a star that day for Salawa Abeni and her husband to visit our house. Thereafter, I became her lead back-up vocalist. We produced five albums during the sixteen years I spent with her.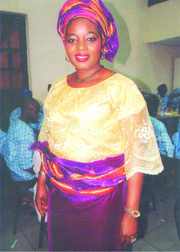 Why did you leave?
I left her when I wanted to get married.
During your stay with QSA as a lead back-up vocalist, what your experience? 
Music involves a lot of issues. but I thank God for His mercy on me because I cannot recount all on pages of newspapers. Every individual has different experiences and lessons.
Has there been any time you felt like quitting?
Yes, there was a time I was contracted to produce a jingle for a company through a man called Alphabet, when the owner of the label (A Supreme Entertainment) from which I released my debut album heard the jingle, it became  hell as the man threatened and banned me for five years not to release any album. I did not drop any album for those years. But God has always been on my side.
When did you establish your band?
It was in 2002 but my debut album Destiny Waka was released in 2003 from the stable of Alloy Productions.
How many albums have you released so far?
I have released four albums and I am into jingle and sound track productions like those I did for Alaroye, a Yoruba weekly magazine, Amuludun Television, Orisun Television and Bitter Extra among others.
Which of them can you describe as the best seller or breakthrough?
My breakthrough was when I performed at the funeral of Alhaji Kollington  Ayinla's mother.
As a female artiste, how do you combine and home?
There has never been any problem about that. My husband is supportive, understanding and loving.
How can you describe QSA?
QSA is a mother, leader and according to her name, she is actually a Queen and I make bold to say I am the crown princess.
After your last effort, Stepping Out, what next?
I am presently in the studio for my fifth album and I am featuring Saheed Osupa.