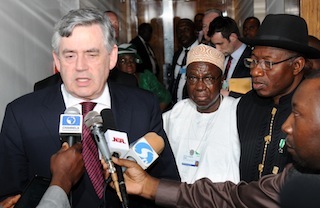 The United Nations' Special Envoy on Education, Gordon Brown, on Friday in Abuja praised the Nigerian Government's zero tolerance for terrorist groups.
Brown, while speaking at the World Economic Forum (WEF) on Africa, assured Nigerians of the support of the international community in the fight against terrorism.
He said President Goodluck Jonathan and other Nigerians were determined to locate the missing girls and safely return them to their families.
"The first thing is to do everything possible to find the girls, and there is determination on the part of the world community to support this cause, which is being reflected in their actions.
"I think the people of Nigeria have shown that they are not prepared to tolerate terrorist groups who want to prevent girls from going to school,'' Brown said.
He said the Chibok schoolgirls abduction was an act of terrorism, stating that it was inhumane for terrorists to prevent the girls from going to school.
"This is the most inhumane thing to do, to prevent a girl from having her education. But the worse is to snatch her away from her family and to make them sex slaves," the UN Envoy said.
Brown said it was possible that some of the girls might have been taken to border countries, pointing out that it would require international co-operation to release them.
He explained that China, US, France, Britain and other countries have pledged commitment to supporting in bringing back the Chibok girls.
"I can say that China, the US, France and Britain have got (military) advisers who are coming or are already here.
"I was able to convey messages from other governments to the President (Jonathan) today on the help they can offer.
"I am also assured by my conversation with John Kerry, the US Secretary of State, and then with the President that the efforts have been stepped up in a very good way," Brown said.
The UN official said the world community was in solidarity with Nigeria in the "Bring Back Our Girls" campaign, saying "this shows that we all feel the same on the issue".