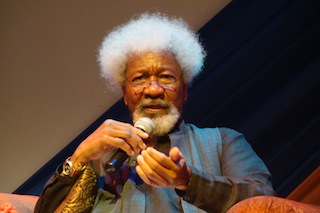 Ten African authors made the long-list for the 2014 edition of the Wole Soyinka Prize for Literature in Africa. This year's award is the fifth edition and it coincides with the 80th birthday of the Nobel Laureate, Professor Wole Soyinka.
Authors listed for the award sponsored by Nigeria's national telecommunication company, Globacom, are: Othuke Ominiaboha, Akin Bello, Soji Cole, Comfort Adesuwa Ero, Toyin Abiodun, Isaac Attah Ogezi, Moshood Oba, Mayowa Saja, Wumi Raji and Akin Adejumo.
The long list was made from a total of 163 entries submitted from 17 African countries in the genre of Drama, which is the focus of the 2014 edition.
The shortlist will be announced by the judges of the prize in June 2014 and the ultimate winner will emerge and be presented with a prize on 5 July at the Civic Centre, Victoria Island Lagos.
The Wole Soyinka Prize for Literature in Africa is a biennial award for the best literary work produced by an African. It was established by the Lumina Foundation in 2005 and has since been serving as an African equivalent of the Nobel Prize, particularly in recognizing and encouraging professional and personal excellence.
Entries were invited from authors of any published play or collection of plays by the same author of African descent, published within the last two years (that is, a play published between 2012 and 2013).
The first edition of Wole Soyinka Prize for Literature in Africa was held on August 5, 2006 at the MUSON Centre, Lagos, Nigeria.
The aim of the award includes propagating the dynamics of self enhancement, celebrating excellence, patriotism, integrity, heroism, intellectualism and selfless service epitomized by the man, Wole Soyinka and generating excellent books (both in content and packaging) authored by Africans.
The award will also foster global harmony through the provision of opportunities for appreciation of cross cultural perspectives and promoting the authors and their works, according to the recognition they deserve among renowned authors across the world.
Globacom sponsored the award in 2012. The ultimate prize money is $20,000USD (over N3 million).