Eromosele Ebhomele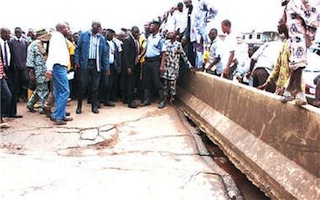 A crowd took over the Lagos-Abeokuta Expressway on Sunday evening stealing bottles of Goldberg Lager Beer from a truck which fell across the road.
Witnesses said the truck, fully loaded with the product produced by Nigerian Breweries Plc, fell on the median of the express at the old Toll Gate end of the road after its brakes failed.
The accidents, the witnesses said, happened at about 8pm with officers of the Federal Road Safety Corps saying they were handicapped as the crowd had a field day.
The accident resulted in a hellish traffic snare for motorists going from Ogun State to Lagos State through the route.
"The truck was coming from Sango area in Ogun State and all of a sudden, the driver just swerved off the road and the vehicle fell pouring out all its contents," Adewole James, told P.M. NEWS.
He said nobody was killed in the accident in addition to the bottles of beer that were destroyed.
At the scene of the incident, the crowd, including men and women, scavenged for bottles of beer, picking as many as their hands could accommodate.
Some were seen rushing to buy bags to carry bottles of beer while others took crates of beer.
Some just drank the beer as they picked them from the truck, whose registration number had been removed by the officials of FRSC.
A middle-aged man who said he was fortunate to take two crates of Goldberg Lager Beer told P.M. NEWS correspondent that it was an opportunity that comes along.
"This opportunity may not happen again. I was able to carry two crates of beer from the truck," he said.
An official of the FRSC told P.M. NEWS that they had contacted the Nigerian Police for assistance.