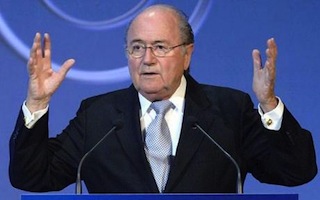 FIFA president Sepp Blatter on Monday demanded action be taken by the Italian Football Federation after a banana was thrown at AC Milan defender Kevin Constant on Sunday.
Constant, a French-born Guinean international, was targeted during Milan's 2-1 defeat away to Atalanta, just two weeks after Barcelona's Dani Alves picked up and ate a banana thrown at him from the crowd during a Spanish league game against Villarreal.
And Blatter also made clear that football authorities in Russia must act after Zenit St Petersburg supporters invaded the pitch and attacked Dynamo Moscow's captain as their side were headed for a shock home defeat in a key game in Russia's title race on Sunday.
"Racism, and games stopped/abandoned due to acts of hooliganism. Each Federation needs to act. Sanctions are available & HAVE to be applied," Blatter said on Twitter.
Zenit were losing 4-2 in the 87th minute when fans launched their assault and forced the game to be abandoned.
One fan punched Dynamo skipper Vladimir Granat twice in the head. Granat was helped from the field in a daze with reports saying he had suffered concussion.
In Italy, Milan coach Clarence Seedorf, a former Dutch international who was born in Surinam, called for the banana-throwers to be banned for life.
"I hope that whoever was responsible will be banned from attending matches for life," he told Sky Sport television.
Early last year, Milan's Ghanaian international midfielder Kevin-Prince Boateng led his team off the pitch during a friendly game against lower-league opposition Pro Patria after suffering racial abuse.
His gesture was widely applauded, with Blatter calling it a "really a strong sign," but warned that walking off the pitch "can't be the solution".