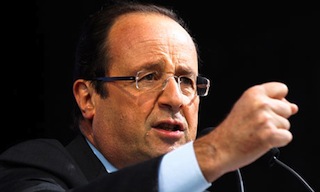 French President Francois Hollande said Monday he had invited US and British officials to attend a Paris summit this weekend focusing on the threat from Islamist sect Boko Haram, which has abducted more than 200 schoolgirls in Nigeria.
"I asked the Americans and British to send a delegation to Paris on Saturday so we can act together and in an efficient way," Hollande told journalists during a visit to the Armenian capital Yerevan.
Prior extending invitations to United States and Britain, Hollande had a conversation with Nigerian president. "I suggested, with Nigerian President Goodluck Jonathan, a meeting of Nigeria's neighbouring countries," he said during a visit to the Azerbaijan capital Baku.
"The meeting will take place Saturday "if the countries agree," he added.
The leaders of at least five African countries – Nigeria, Chad, Cameroon, Niger and Benin may take part, a source close to the president said.
The kidnap of 276 schoolgirls on April 14 by Boko Haram in the northeastern Nigerian town of Chibok has sparked a wave of international outrage.
A team of French experts in "human and technical" intelligence arrived in Nigeria on Saturday to help in the search for the teenagers.