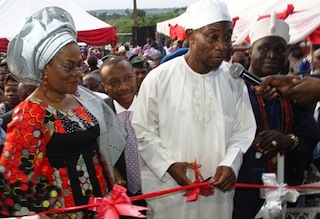 Governor Rauf Aregbesola of Osun state has said that his government will continue to execute projects for the development of the state.
Aregbesola stated this while inaugurating a party supporters' group, known as "Aregbesola De Winner", at the Nigerian Union of Journalist press centre in Osogbo.
He urged the union to do the needful to help the government sustain its current development efforts and actualise its mandate of moving the state forward.
He said the impact of the state government's good work is so much that the people cannot afford to lose the present administration.
The pioneer of the group in Osun, Davies Olukayode, said the objective of the group was to ensure success of the All Progressives Congress in the 9 August governorship election.
Olukayode expressed the need to mobilise the electorate at the grass-roots level for the purpose.
He also advised party faithful against selling their voters' cards in exchange for peanuts, an action he said they might live to regret later.
He lamented the recent kidnap in Chibok, Borno, of more than 200 secondary school students, and urged Nigerians to continue to pray for God's intervention to bring the girls safely back home.
Olukayode urged party faithful go out en masses to vote in the upcoming 9 August governorship election.
The state coordinator of the group, Mrs Ayangbile Adesola, stressed the importance of grass-roots enlightenment campaign.
She appealed to the people avoid any action capable of stopping them from performing their civic rights.