Globacom, the pillar of football in Nigeria, has launched a comprehensive project dubbed 'Go Ahead Eagles' designed to mobilise massive support for the World Cup campaign of Nigeria's national team, the Super Eagles, as the team intensify preparations towards the June 2014 FIFA World Cup in Brazil.
The broad spectrum campaign includes a series of inspirational songs, television commercials and Nigeria's first online reality show which will enable Nigerians follow and engage with the team real time in their quest for honours in Brazil.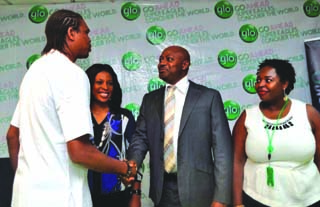 Head of Operations, Globacom, Mr. Bisi Koleoso said that the Go Ahead Eagles campaign will galvanise the support of millions of Nigerians toward ensuring that the Eagles not only excel in Brazil but also set the record of being the most successful African team at the World Cup by being the first national team in the continent to make the last four.
"The Super Eagles MUST GO AHEAD," he stated, adding that all the communication materials in support of the team will be released with the theme One Nigeria, One team, One Network.
Mrs. Juliet Ehimuan-Chiazor, Country Manager, Google, with whom Globacom is partnering to activate the online leg of the campaign, said the telecom company had leveraged the power of technology to mobilise support for the Super Eagles.
"We are going to do three things under this Glo campaign for the Super Eagles. There will be Google Plus Hangout where Nigerian football fans can interact with their stars. There will also be an opportunity for fans to send their pictures digitally to their Super Eagles stars to be autographed. The fans will also have the privilege of sending e-cards to the Super Eagles players with their goodwill messages to the players. With the Online Reality Show, Nigerians on the Glo network can regularly follow what is happening behind the scene, how the Eagles prepare for matches and the footages of the team in camp," she disclosed.
"Google is glad to be a part of this vision. We are happy to collaborate with Globacom to show what is possible throughtechnology," she said.