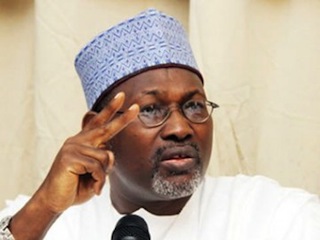 The Chairman, Independent National Electoral Commission (INEC), Prof. Attahiru Jega, has said that nearly 80 per cent of the recommendations of the Justice Lawal Uwais-led Political Reform Panel has been implemented.
Jega made the statement in his presentation at the National Conference Committee on Political Parties and Electoral Matters in Abuja on Tuesday.
"I think almost 80 per cent of Uwais Panel recommendations have been implemented in one way or the other.
"Hopefully as we move along in our political history and as time goes, perhaps with your committee inputs, we may have subsequent amendment to the legislation that may take us there," he said.
Jega also said that the commission had achieved financial autonomy by law and in practice "because government had complied fully with the law.
"One of the amendments of the constitution clearly made INEC on the first line charge.
"We still have to produce a draft budget and submit it through the budget office but once funds are appropriated, they are released to us. There is no issue of hoarding or slighting."
He said the financial autonomy granted the commission had given it relative autonomy in terms of how it managed the electoral process.
Jega noted that the Uwais panel recommendation for the establishment of a separate body for the registration of political parties was a good development.
"From my experience in the commission, I believe that if another body can transparently and impartially register parties without controversy, it will be fine.
"But frankly in terms of the registration of parties, we do not find it as a major challenge. It is a routine work and that is why we have been able to do it without challenge."
He said what the commission had identified to be challenging was the prosecution of electoral offenders as it lacked the capacity to successfully prosecute the huge number of electoral offenders.
"We have done our best by doing what past electoral body in this country had done. When we came in we could not find a single record to prosecute electoral offenders.
"We now have a record of over 200 prosecutions of electoral offenders
"On registration alone, we have over a million offences relating to registration we can prosecute but we have a very small legal unit in the INEC and the funding of these cases is money consuming."
Jega added that the commission had already achieved 80 per cent timely delivery of election materials and was working to achieve 95 per cent as it had customised election result sheets to polling units.
He said that Nigeria would not be able to conduct all elections in one day in 2015 because of cost and logistic problems.
"We do not support doing all the elections in one day in 2015, we may be able to do it in future," he said.