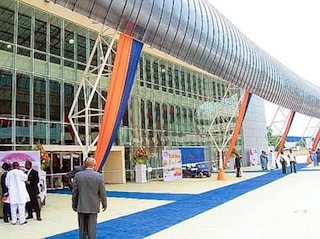 The management of Bi-Courtney Aviation Service Ltd (BASL) on Wednesday said it would spend about N500 million to improve facilities at the Murtala Muhammed Airport Terminal Two (MMA2), Lagos.
Chief Executive Officer of BASL, Christophe Pennick, told journalists that the money would be used to upgrade several facilities that would make the airport more comfortable for users.
"Two escalators were purchased at the cost of N60 million, excluding installation and other expenses. The equipment being installed will be completed by 1 June.
"The escalators and the parts were sourced directly from the manufactures in Japan. We have also entered into partnership with the company," he said.
Pennick said as a result of the upgrade, the company would increase the check-in counters at the terminal from 31 to 45 to accommodate more airlines.
He noted that the facility upgrade was in line with the International Air Transport Association's position that paperless and self check-in procedures at airport terminals be installed.
Pennick said that the exercise would save cost, time and accuracy in data as well as ensure that the terminal was not congested.
He commended airlines operating from the terminal for their cooperation.
Pennick said that though some banks were moving out of the terminal, others were coming in.
Chief Operating Officer of the company, Ms Adebisi Awoniyi, said that power generators had been the main source of electricity in the terminal as public power supply had been secondary.
She said the company uses three trucks of diesel worth of 33,000 litres each month.