Kazeem Ugbodaga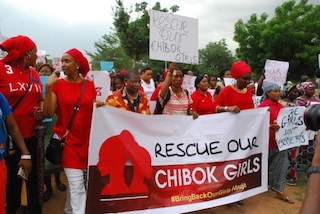 Hundreds of women stormed the Lagos State Governor's Office on Tuesday protesting the abduction of 234 school girls in Chibok, Borno State, North eastern Nigeria.
The All Progressives Congress, (APC), protesters were led by the wife of APC National leader, Senator Oluremi Tinubu and APC Women leader in Lagos, Chief Kemi Nelson. The protesters marched from the Computer Village, Ikeja through Awolowo Way down to the State House, Ikeja chanting anti-Boko Haram songs.
Branded in red t-shirts with the inscription, "Bring Chibok Girls Back Now and Alive," they marched to the Governor's Office to deliver a letter to Governor Babatunde Fashola for onward delivery to President Goodluck Jonathan,
Speaking, Senator Tinubu, said the abduction of the girls had exposed the incompetence of the government to tackle insecurity and unemployment facing Nigeria. "We thank God for the situation of Chibok girls, if not for them, the insecurity problem we have in Nigeria would not have been globally addressed, we thank God for that.
"We are concerned because of all that is going on in the nation, we are glad that people are praying for the nation. Thank God that this case has drawn a lot of attention to the things happening in this country."
Spokesperson of the protester, Kemi Nelson said the APC women were disappointed that Jonathan had not shown enough leadership to secure the lives of the future of the country, saying that the Chibok girls were not the first victims of kidnap as 54 girls from Borno State were kidnapped in January, 2014.
"That Tuesday night, most Nigerians were astonished that your government rather than cancel the Centenary dinner in honour of the kidnapped girls, went ahead to wine and dine while our girls a few hours earlier were taken into captivity," she said in the letter to the president.
Nelson called on Jonathan to set up a judicial inquiry into the abducted Chibok school girls and other related issues with a view to exposing all hidden acts of conspiracy and negligence surrounding the recent incidents.
Receiving the protesters, Fashola, who was represented by the Commissioner for Information and Strategy, Aderemi Ibirogba said the federal government must put in more efforts to ensure that the girls were released by their captors.