Aminu Sadiq Ogwuche, one of the two suspects declared wanted on Monday by the State Security Service in connection with the 14 April bomb attack at a bus station in Nyanya, a suburb of Abuja has been arrested in Sudan.
Mike Omeri, the Director General of National Orientation Agency, NOA announced the arrest of the suspect at the National Briefing Centre, located at the headquarters of the agency on Wednesday.
Following the linking of the suspect with the bomb attack which claimed 75 lives, the National Bureau of the Interpol based at the Nigerian Police Force Headquarters issued an international red alert for his arrest.
The suspect was arrested with the support of the Nigeria military attaché to Sudan.
"Aminu Sadiq Ogwuche who was earlier declared wanted has been arrested in Sudan with the efforts of the Army, DSS, the National Bureau of the Interpol based at the Nigerian Police Force Headquarters and security operatives of Sudan," Omeri said.
He added that the suspect was arrested earlier today and that the security operatives are already working to extradite him to Nigeria from where he was arrested.
The SSS had while parading five suspects in relation to the bomb blast on Monday declared one Rufai Abubakar TSIGA wanted as the chief mastermind of the attack.
The intelligence agency said Tsiga was actively aided by Ogwuche, a student of Arabic Language at the International University of Africa, Sudan who is from Orokam, Ogbadibo LGA of Benue State.
The Secret Police revealed that Ogwuche who was born in the United Kingdom served in the Nigerian Army with Service Number SVC 95/104 but deserted in 2006.
He served in the Intelligence Unit of the Nigerian Army at Child Avenue, Arakan Barracks, Lagos between 2001 and 2006, and was posted to the Nigerian Defence Academy (NDA) in 2006.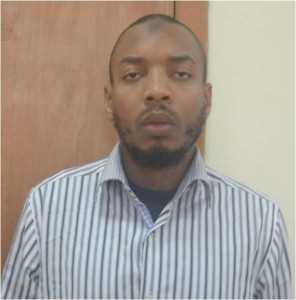 According to the intelligence agency, Ogwuche was arrested on the 12th November, 2011 at Nnamdi Azikiwe International Airport (NAIA), Abuja, on his arrival from the United Kingdom, for suspected involvement in terrorism-related activities but was released on bail on 15th October, 2012 to his father, Col. Agene Ogwuche (rtd), following intense pressure from human rights activists who alleged human rights violation.
DSS had placed a ransom of N25m on the two accused.