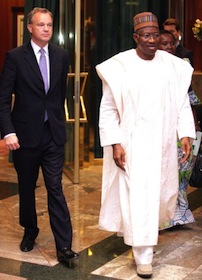 President Goodluck Jonathan on Wednesday solicited international support for his plans for the socio-economic rehabilitation of the north-eastern states after the Boko Haram insurgency has been substantially curtailed.
Jonathan made the request when he received British Minister for Foreign and Commonwealth Affairs, Mark Simmonds at the Presidential Villa, Abuja.
The President expressed optimism that with the support of the international community, the abduction of the school girls in Chibok, Borno would be an end to terrorism in the country.
He reiterated Nigeria's appreciation for the support being given by Britain and others to locate and rescue the girls abducted from Chibok.
Jonathan told Simmonds that he looked forward to meeting the Heads of State and Government of Benin Republic, Chad, Niger and Cameroon over the weekend in Paris.
The meeting in Paris will discuss on how Nigeria and the countries could strengthen and intensify collaboration against Boko Haram and other criminal organisations.
"If we all collaborate more, it will be easier to eradicate Boko Haram and terrorism," he said.
Simmonds reassured President Jonathan of Britain's commitment to giving Nigeria all the required assistance to find and safely rescue the abducted girls.
"We are keen to support Nigeria in every possible way and help you overcome present challenges," he said.
Also on Wednesday at the Presidential Villa, President Jonathan received solidarity calls from the Prime Minister of Algeria, Abdelmallek Sallel and Prime Minister Nawaz Sharif of Pakistan.
They both expressed their willingness to share their counter-terrorism experiences with Nigeria and support the ongoing search and rescue operations in any way possible.
The President later received the UN Secretary-General's Representative in West Africa, Sa'id Djinnit.
He told Ambassador Djinnit that the Federal Government would welcome help from the UN for the coordination of a planned victims support programme and a Victims Support Fund.