Abiodun Onafuye/Abeokuta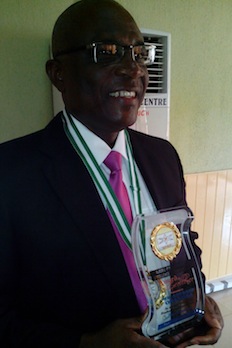 Veteran editor and the Managing Director of TheNews and PMNews newspaper, Mr Adebayo Onanuga was today honoured with the most prestigious award in Ijebu Ode.
The award ceremony is an annual event designed to honour Ijebu sons and daughters who have excelled in their sector.
The event is the brainchild of Ijebu Professional Excellence Foundation led by Dr. Dipo Bailey.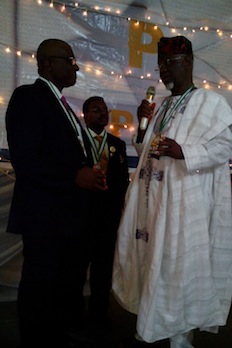 Twenty Ijebu sons and daughters were honoured in this year's celebration. The event was held at the Bato Events centre, Erunwon road, Ijebu Ode.
Among the recipients today were seven monarchs. Oru of Imoru, Oba (Engr.) Munirudeen Bashorun; Lamodi of Isiwo, Oba (Engr). Sikiru Salisu; Obelu of Esure-Ijebu Imushin, Oba Dr.Kamorudeen Sansi; Oligun of Ilugun North, Oba (Engr.) Josiah Bamidele Otukoya; Dagburewe of Idowa, Oba Yinusa Oladele Adekoya; Ajalorun of Ijebu Life, Oba Adesesan Oguntayo and Limeri of Awa-Ijebu, Oba Amos Awobajo.
Other recipients included: Giwa Bobakeye of Ijebuland; Giwa Abiodun Onanuga, former Permanent Secretary in Ogun State; Alhaji Korede Lawal, Rector, Ogun State College of Health Technology; Dr.Tunji Dawodu, Dr. Sheyin Adejoke Olabisi, Engr.Oladele Amoda, Arch. Ademola Odutola, Mrs Iyabo Okusanya, Chief Ebenezer Osoba, Engr.Bosun Joke among others.
Posthumous award was bestowed upon Late Alhaji Ambali Sanni,the proprietor,Sanni Luba School, Ijebu Ode.
The annual event began in 2009, with 22 professionals honoured. In 2010, 15 Ijebu sons and daughters were awarded and 19 were bestowed with the prestigious award in 2011; 12 were decorated in 2012 and 19 in 2013.
Presenting the award to the Managing Director of the most widely read magazine, TheNews, Giwa Engr. Bosun Oke saluted his courage and value which he had added to the town and the nation at large.
"My day is not complete without reading your evening newspaper, PMNews, and your dexterity and well thorough research and timely news have distinguished the newspaper from others. Now, you are into politics, I strongly believe that you will make the difference," Oke stated.