The Coalition Against Corrupt Leaders (CACOL) has called on President Goodluck Jonathan to prevail on the Managing Director of the Nigerian Export-Import Bank, NEXIM, Mr. Robert Orya to give the necessary financial support to the Local Organising Committee, LOC, of the Guinness Book of World Record Championship between Nigerian Bashiru Lawrence Ali, OON and American Rick Camlin, which will come up in Nigeria at a yet to be fixed date.
The CACOL, a group of over 20 civil-society, community-based and other non-governmental organisations said in a letter addressed to President Jonathan and signed by its Executive Chairman, Debo Adeniran that "meeting was held between the National Sports Commission and Bash Ali's World Guinness Book of Records Fight Project on 27th April, April where it was highlighted that an initial sum of $1 million would be paid to the International Boxing Union to enable Nigeria acquire the hosting right, and another sum of $29 million would be made available as boxers purse and for satellite hook-up. It was resolved at the meeting that the Nigerian Export-Import Bank and the Bank of Industry would be the two major sponsors of the project.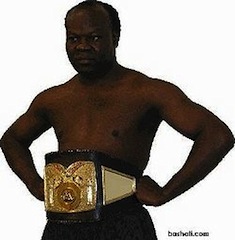 However, it is worthy of note that despite all the efforts put together by many notable Nigerians to ensure the successful holding of the much-acclaimed title fight, the MD of NEXIM Mr. Robert Orya has been frustrating the effort of the famous boxer by his refusal to provide the necessary financial support to kick-start the arrangement on the securing the hosting right, even though his Bank of Industry counterpart, Ms. Evelyn Oputu, has exhibited appreciable level of cooperation."
The CACOL, however, said that for the best interest of Nigeria, President Jonathan should prevail on Orya to give the LOC the requested financial support to actualise the title fight. "It must be reiterated that Your Excellency's intervention is needed urgently as the champion is only cashing on his personal credibility that earned him favourable consideration from the International Boxing Union for further extension of the date to pay the hosting fee that ought to have lapse since 30 April, 2014." the CACOL said.
Meanwhile, the President of Bash Ali Fans Club of Nigeria, BAFCON, Dickson Ayorinde Oshin also said the group also joined force with the CACOL for Jonathan's intervention now so that the dream of Bash Ali won't be sabotaged.
"We believe that all members of the LOC were appointed by the FG to exercise one duty or the others so if any member does not perform the President should order his removal," said Oshin, whose BAFCON members are spread all over the country.