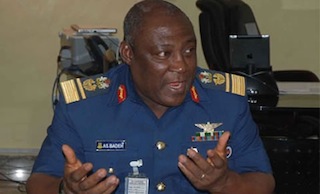 The Chief of Air Staff, Air Marshal Adesola Amosu, said the presence of foreign military in Nigeria to assist in the rescue of the abducted Chibok school girls will not undermine the nation's sovereignty.
Amosu said this on Friday in Abuja at the decoration of 12 newly promoted Warrant Officers at the Air force headquarters.
"When they come in like that for assistance, there will be something like a memorandum of understanding, there will be guidelines.
"Even great nations like Britain have it in their agreement that they will always respect the NATO alliance; it is not the first time that nations are working together.
"What you have to know first about multinationals coming to our aid is that it is not strange because nations do not fight alone, you fight as a coalition," he said.
Amosu recalled that during the ECOMOG operations in Liberia, the region got assistance from the international community in terms of information.
The Chief of Air Staff, however, declined to comment on whether the foreign forces would collaborate with their Nigerian counterparts.
He said "what you are asking for, I do not think is what we should say in the open, it is confidential.
"But it is not what will compromise our sovereignty, we are still working as a nation and we have made it very clear we will provide the information."
He said that partnership and alliances with foreign nations would enhance the capabilities of Nigerian troops in the war against insurgency.
Amosu charged the promoted officers to perform creditably in the war against terrorism.
"As we started the fight against insurgency and terrorism, we observed that some of them in the field performed better than during peace time.
"We thought we should given them the recognition," he said.