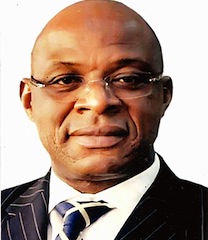 The Federal High Court in Lagos, on Friday, dismissed a suit by a plaintiff, against the Nigerian National Petroleum Corporation (NNPC), and eight others, over an alleged breach of the Cabotage Act.
Raymond Omatseye, former Director-General of the Nigerian Maritime Administration and Safety Agency (NIMASA), had filed the suit against the defendants, in January, on behalf of a Company, Polmaz Ltd.
Joined as second and third defendants in the suit, are the Pipelines and Products Marketing Company (PPMC) and NIMASA.
The fourth to ninth defendants in the suit are the vessels' operators namely: Olimpex Nig. Ltd, Unibros Shipping Corporation, Africulti Ltd, Marika Investments Ltd, Nidas Marine Ltd and Prometheus Maritime Ltd.
The plaintiff, in his Originating Summons, sought a declaration that the engagement of the fourth to ninth defendants by the NNPC and PPMC in domestic coastal operations violated Section 5 of the Merchant Shipping Act.
He sought an order directing NNPC and PPMC to cancel all contracts with foreign-flagged vessels operating in Nigeria's coastal waters without licence.
The plaintiff also wanted the court to direct the defendants, except NIMASA, to pay the fines stipulated in the Cabotage Act for their alleged violation of the law.
Delivering his judgment on Friday, Justice Ibrahim Buba held that although the plaintiff possessed the legal right to institute the action before the court, such action could not be commenced by way of an Originating Summons.
He dismissed the suit on the grounds that the plaintiff had raised allegations, which could not be substantiated in an action commenced by Originating Summons.
Justice Buba added that since there were allegations of crime raised by the plaintiff, he ought to have provided sufficient evidence to prove his case.
The judge, therefore, said that it was difficult to find the defendants guilty of violating the law, when there was no charge or writ before the court.
"It is clear from the foregoing submissions that the plaintiff, in the proof of their case, did not show conclusively that the fourth to seventh defendants did not comply with the Cabotage Act.
"Because of the element of crime, the duty is squarely on the plaintiff to prove its case beyond reasonable doubt.
"It is for this reason that the case of the plaintiff crumbles like a pack of cards."
The judge, however, upheld the powers of the plaintiff to initiate the suit, on the grounds that he was duly registered with NIMASA, and had sufficient interest which could adversely be affected.
He noted that a citizen should not be denied access to court, to ventilate his right.