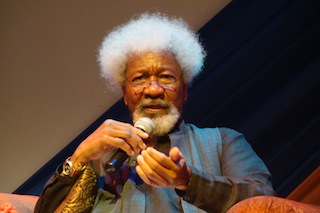 Subscribers of Nigeria's indigenous telecommunication company, Globacom, who up their airtime usage by 50 per cent between now and 23 June, 2014 stand a chance to be honoured as Special Guests at the forthcoming event to crown the winner of 2014 Wole Soyinka Prize for Literature.
The Globacom sponsored award, is a biennial event designed to recognise the best literary work produced by an African. It was established by the Lumina Foundation in 2005 to promote literary excellence in Africa and has since become the African equivalent of the Nobel Prize.
Already, 10 African authors have been selected for the 2014 edition, which coincides with the 80th birthday of the Nobel Laureate, Professor Wole Soyinka. Presentation of the prize is slated for 5 July, 2014 at the Civic Centre, Victoria Island, Lagos.
Speaking on preparations for the occasion, Globacom's Group Chief Operating Officer, Mohamed Jameel said in a statement in Lagos that, "Professor Wole Soyinka is a symbol of professional excellence, and we are always happy to be part of this momentous event which celebrates literary excellence. To add spice to the occasion, Glo subscribers who increase airtime usage by 50 per cent by 23 June will be our Special Guests on that special night."
Apart from this honour, he said such lucky subscribers will also be entitled to other special perks.
The organisers of the award have released the names of the authors who made the longlist from where a shortlist and the eventual winner will be announced. They include Othuke Ominiaboha, Akin Bello, Soji Cole, Comfort Adesuwa Ero, Toyin Abiodun, Isaac Attah Ogezi, Moshood Oba, Mayowa Saja, Wumi Raji and Akin Adejumo.
The long list was made from a total of 163 entries submitted from 17 African countries in the genre of Drama, which is the focus of the 2014 edition.
The organisers announced that two entries each came in from authors in Algeria, Burkina Faso, Ghana, Ivory Coast, Mali, South Africa, Tanzania and Rwanda. Three entries each came in from Angola and Namibia. One entry each came in from Cameroon, Liberia, Togo and Zambia, four from Kenya, five from Uganda, and 128 from Nigeria.
The five Judges are from Uganda, South Africa, Mali, Nigeria and Algeria.
The shortlist is expected to be announced on June 2014 and the ultimate winner will emerge and be presented with his prize on July 5.
Entries were invited from authors of any published play or collection of plays by the same author of African descent, published within the last two years (that is, a play published between 2012 and 2013). Globacom was also the main sponsor at the last edition.