Harrison Iyoha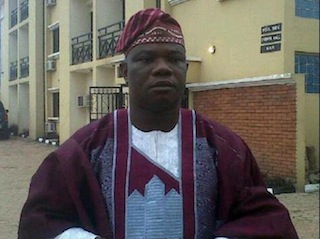 Students of Lagos State Polytechnic, LASPOTECH, have continued to pay glowing tributes to late lecturer, Prince Adesoji Adetola Senbanjo, one year after his demise. Prince Senbanjo died on 12 May, 2013 after a brief illness.
Students who spoke with our reporter said that his death was tragic, while describing the deceased as a gentleman who always cared for their needs during his life time.
Madu Sindy, a National Diploma III Mass Communication student, told P.M.NEWS Campus Square that: "365 days gone and it still feels like a terrible nightmare. One from which I hope to wake up. I am yet to come to terms with the fact that he is really gone because it seems just like yesterday that I last saw him.
"He was my friend, my big brother, my father, my strength in times of weakness. A thousand words cannot describe what he meant to me.
"Like a father, he supported me morally and always played his part to see that I was on the right track; he always gave me a listening ear and was always ready to share every moment; the good, the bad and the not-so-good.
"Those moments have been turned into mere memories. He was more than a lecturer to me and others who came in contact with him. He was a rare gem. I miss his ever-smiling face, that kind and God-fearing heart, that roaring laughter, that great personality.
"You might not be here with us today, but deep down in my heart and in the hearts of those who knew the real you. YOU LIVE ON! May your humble soul continue to find rest in the bosom of our Lord," she said while breaking down in tears.
Adeyemi Tomilola Kehinde also cried her eyes out as she told our reporter that the death of SOJ, as the late Senbanjo was fondly called, gave her twin sister and herself an unpleasant birthday gift.
She said: "12 May happens to be our birthday and we were already expecting his birthday present only to be told he died when we were writing our exams last year.
"Mr. Sebanjo was a kind hearted man, a man loved by all, he was like a father and a mentor to me. He made Physics easy to study and understand, he made us love the course with the way he taught it and gave feasible examples. May his soul continue to rest in peace".
In his submission, Adeyemi Jeremiah told our reporter that: "Senbanjo was a good man and a good teacher too. He made science easy and fun to learn for those whom he taught.
"R.I.P. sir, death has and will always be highly irresponsible; taking the nice ones and delaying the days of the wicked. I have decided to console myself. My joy now is knowing he has gone to be with our Lord Jesus".
A Mass Communication student in the institution, Omotayo also said: "I came to LASPOTECH to study Mass Communication and never knew that Physics was going to be one of the courses I was going to take.
"When he came to our class one Sunday morning and introduced himself to us as our physics lecturer, we all wondered how we were going to cope in class since we never studied physics in secondary school but he made the course interesting. We are all going to miss him".
In his tribute, Emeka Samuel, told our reporter that the school lost a great man the day Senbanjo died, adding that it would be difficult for the school to replace him.
"Whether we like it or not, we have lost a gem The current National Diploma 1and 2 lost more because they came into the school after his death. I doubt if there will be a better replacement for Senbanjo who took us through funny moments. We were always looking forward to his lecture. Too bad he died early".
P.M. NEWS Campus Square gathered that the late Senbanjo contested for the seat of National President, Academic Staff Union of Polytechnics, ASUP but narrowly lost to its current president, Chibuzor Asomugha.
Sebanjo obtained his B. SC and M. SC degrees in physics from
the University of Lagos. He was also an associate lecturer at the Lagos State University and was pursuing his doctorate degree in the field of Radiation Physics. He was 46 years.