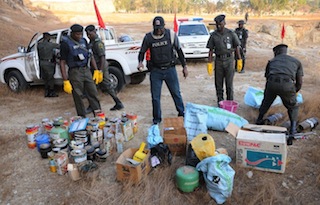 Nigeria police said on Monday that they thwarted a fresh attempt to detonate a car bomb in Kano, a day after a bombing killed four people in an area of the city attacked repeatedly by Boko Haram.
"The police in Kano today… (at) about 9:00am averted what could have been another devastating bomb blast in the ancient city of Kano," a statement said.
The vehicle was packed with material for an improvised explosive device but was recovered and made safe before it could be detonated, they added.
Yesterday, a blast ripped through a busy road lined with bars in the predominantly Christian area of Sabon Gari.
Witnesses claimed that the car was left in the Middle Road area of Sabon Giri and its driver left on a motorbike. The blast happened soon afterwards.
Kano is Nigeria's second-most populous city and a commercial centre for the whole of the Muslim-majority north.