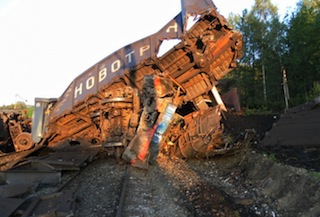 At least four people were killed and 15 injured on Tuesday after parts of a freight train derailed and collided with a passenger train south of Moscow, the emergencies ministry said.
The ministry said the accident occurred at 1:00 pm local time (0900 GMT) near the town of Naro-Fominsk, about 80 kilometres (50 miles) southwest of Moscow, as the passenger train was travelling from the Russian capital to Moldova's capital Chisinau.
Russian news agency RIA-Novosti quoted an emergencies ministry official on site as saying the number of dead had risen to five.
Russian Railways said in a statement that 16 wagons of the freight train had derailed, damaging at least two carriages of the passenger train.