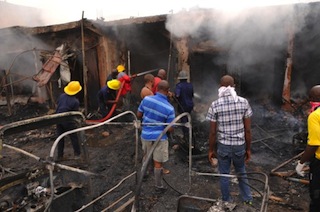 At least 118 people were killed in a car bomb attack in the central Nigerian city of Jos, the country's relief agency said on Tuesday, warning that the death toll could rise further.
"The exact figure of the dead bodies recovered as of now is 118," Mohammed Abdulsalam, coordinator for the National Emergency Management Agency (NEMA) in the city, told AFP.
He added that "more bodies may be in the debris" of buildings which collapsed due to the intensity of the blasts.
Fifty-six people were injured in the twin blasts, said Abdulsalam. The military said that improvised explosive devices were hidden inside a truck and a minibus and went off within 20 minutes of each other.
Chris Olakpe, the police commissioner of Plateau state of which Jos is the capital, told reporters earlier that 46 people were killed and 45 others were injured.
He maintained later: "We are saying 46. That's the number we have in the morgues. But we are not ruling out more bodies."
Plateau state lies in the so-called Middle Belt of Nigeria, where the largely Christian south meets the mainly Muslim north, and has been the scene of long-standing ethnic and sectarian conflict for years.
It has also been hit by Boko Haram militants, who have been waging an insurgency in Nigeria's northeast since 2009.