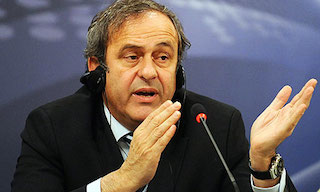 The European Commission has rejected the only complaint filed against UEFA's new Financial Fair Play (FFP) rules, a source close to the process told AFP on Tuesday.
The complaint was lodged last year by Belgian agent Daniel Striani, represented by Jean-Louis Dupont, the same lawyer who acted on behalf of Jean-Marc Bosman in the landmark case which revolutionised football's transfer system in the 1990s.
Dupont claimed that FFP had an impact on the free circulation of capital (of club owners) and the free circulation of workers.
He argued that it created restrictions on investment by diminishing the number of transfers and the amount spent on players, and therefore also diminished revenues for player agents.
But the European Commission ruled that Striani had no legitimate interest in lodging his complaint, telling him that FFP rules did not concern agents and imposed no obligation upon them, the source told AFP.
The Commission also noted that Striani wished to pursue for the symbolic sum of one euro ($1.37) at a court in Brussels.
Their text noted that they had so far "only received one complaint saying that the FFP rules went against European Union competition law" and added that they had "not received any complaint from those who are directly affected by the demands of FFP", in other words the clubs.
The Commission added that the clubs "were both consulted on the concept of FFP before it was adopted and supported its demands…when they were adopted."
Nine clubs, including English champions Manchester City and French champions Paris Saint-Germain, have been punished for breaching FFP rules.
All nine clubs have accepted their punishments.