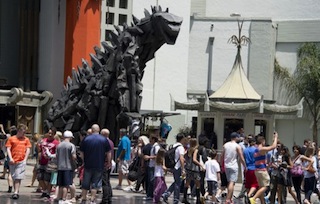 The latest remake of classic monster flick "Godzilla" stormed straight to the top of the global box office at the weekend, raising prospects of lucrative sequels to the Japanese dinosaur-like behemoth.
The movie, in which "Breaking Bad" star Bryan Cranston plays the tortured Japanese-speaking scientist battling to save humanity, scored a killer $93.2 million on its opening weekend in north America, and more than twice that globally.
The latest incarnation of the 1954 classic, which also stars Oscar-winning French actress Juliette Binoche as well as Britons Sally Hawkins and Aaron Taylor-Johnson, continues the original's exploration of the threat of nuclear disasters.
The $160 million budget movie, in which Godzilla does battle with two giant and long-dormant creatures which feed off radioactivity, pushed raunchy comedy "Neighbors" to a distant second place.
"This has a potential to be Warner's newest tentpole franchise," said Jeff Bock of box office trackers Exhibitor Relations, using industry-speak for mega-budget blockbuster movies, crucial to studios' financial success.
Warner Bros, which could use a new dependable franchise after the end of the Harry Potter series, is already working on a sequel to "Godzilla" according to industry journal Variety, which said the film made nearly $200 million globally this weekend.
Jon Jashni, head and chief creative officer of Legendary Pictures, the production company which works with Warner Bros, said the smash box office debut was important.
"It's very validating," he told Variety. "You can't ask for a better situation when you have a group of people who were perhaps expecting to be let down, were impressed," Jashni added.
"Our initial goal was to re-brand and re-establish the property … Now, we're trying to take in all of the results of the weekend," he said, as box office figures were confirmed Monday.
Screenwriter Max Borenstein defended the movie's decision to delay the moment when the star of the show appears on screen – likening it to the tension built up in 1975 shark attack classic "Jaws."
"There was something great about the suspense that was built up when you didn't see Jaws in the full until the end of the film," he told the Hollywood Reporter.
"By doing so, that movie becomes incredibly suspenseful, and perhaps it's the reason 'Jaws 2′ becomes a lot less interesting, because you see him right from the very beginning," he said.
The movie left its box office rivals trailing way behind Monday.
Universal Pictures' "Neighbors," starring Seth Rogen and Rose Byrne living next door to a raucous fraternity house, earned $25.1 million from Friday to Sunday, according to Exhibitor Relations.
In third place, "The Amazing Spider-Man 2," the sequel featuring Andrew Garfield, took in $16.8 million for a total $172 million in the three weeks since its release.
Another newcomer, "Million Dollar Arm," finished in the fourth spot. The film starring Jon Hamm, a true story about a Major League Baseball agent who goes to India to find the next big thing among cricket players, had ticket sales worth $10.5 million.
Down to fifth, "The Other Woman," a romantic comedy starring Cameron Diaz, earned $6.3 million.
In sixth place was "Heaven Is for Real," starring Greg Kinnear as the father of a four-year-old boy who wakes up from emergency surgery with a story about going to heaven and back. It pulled in $4.4 million.
Seventh was animated flick "Rio 2," at just over $3.7 million. It just barely overtook "Captain America: The Winter Soldier," at nearly $3.7 million.
Rounding out the top ten were "Legends of Oz," pulling in just under $2 million, followed by PG-rated comedy "Moms' Night Out," with $1.8 million.