Nnamdi Felix/ Abuja
A Federal High Court in Abuja, the Nigerian capital, has declined jurisdiction to determine whether President Goodluck Jonathan had the legal right to suspend former governor of the Central Bank of Nigeria, Sanusi Lamido Sanusi.
Jonathan suspended Sanusi on 20 February a few months to the end of his tenure as governor. Sanusi challenged the suspension on grounds that the president did not have unilateral power to do so, without the consent of the National Assembly.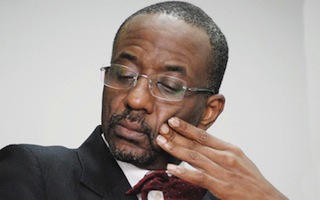 But a battery of defence lawyers, led by Fabian Ajogwu (SAN) for the president and the attorney general of the Federation argued that Sanusi ought not to have brought the matter before a Federal High Court as the matter was employment related. They also disagreed mr. Kola Awodein, lead counsel for Sanusi that the president did not have the power to remove him.
Justice Gabriel Kolawole, ruled on jurisdiction today and agreed that the Federal High Court was the wrong place to hear the suit.
He said the matter should be filed at the National Industrial Court.
Justice Gabriel Kolawole held that Sanusi's appointment as CBN Governor was in furtherance to the CBN Act of 2007 and does not fall within the category of tenured employment embedded in the constitution similar to the appointment of the Chief Justice of Nigeria or Court Judges, whose appointments by the President are tenured, regulated and embedded in the Nigerian constitution for which the Federal High Court has the jurisdiction to adjudicate upon.
The court noted that the Federal High Court, following the coming into effect of the National Industrial Court, has been divested of the powers to determine matters relating to employment, such as that of the Governor of the CBN or any agency of government.
"The appointment of the CBN Governor is in furtherance of the act of the National Assembly. The CBN is an agency of government and all it's employers must seek reliefs before the National Industrial Court. The CBN Act cannot be equated with the appointment of the CJN or Judges, whose terms of appointments, remunerations and dismissal or retirement are direct constitutional provisions which the creation of the plaintiff's office is not" said the court.
Sanusi had contended that he is not an employee of President Goodluck Jonathan and as such can only removed or suspended from office by the the Board of the CBN which he, Sanusi, is the chairman and not the President. The court however disagreed with him and held that the CBN was a product of delegated legislature made by the National Assembly in accordance with its constitutional duties which makes the CBN merely an agency of government under the President.