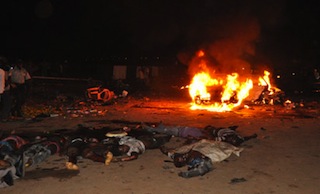 Two men have been arrested in connection with a suicide car bombing in the northern Nigerian city of Kano that killed four, police said on Tuesday.
"Two suspects are now in custody in connection with Sunday's bombing in Sabon Gari," Kano police spokesman Musa Magaji Majia told AFP.
Majia said the pair were arrested by people at a bus station in the city that was previously attacked by Boko Haram militants after they overheard them talking about the bombing.
"They were apprehended and the police station there alerted, which led to their arrest and transfer to the police headquarters," he added.
The authorities have not said who was responsible for the blast, which ripped through the Middle Road area of a predominantly Christian district at about 10:00 pm (2100 GMT) on Sunday.
The area is a popular entertainment haunt because of its many roadside bars and restaurants.
Boko Haram, which is waging a violent insurgency in northern Nigeria, is suspected of setting off a series of bombs in July last year.
But others have suggested a political motive to the bombing after the main opposition All Progressives Congress (APC) routed the ruling Peoples Democratic Party (PDP) in local elections Saturday.